Live Review
On the Road Again
Thrush Hermit With Deadly Snakes
December 2, 1999
The Reverb - Toronto, ON
Ah, it came and went. After problem upon problem, the time finally came for Canadian indie-rockers Thrush Hermit to finish their farewell tour and bid a fond adieu to Toronto. And from the packed, sweaty Reverb, to the reduced-price merchandise, it was more than apparent that the band aren't joking.
Catching the Deadly Snakes 3/4 of the way through their set was a blessing in disguise. Mediocre, slightly off-key, and rather bouncy, as opposed to the Ted Nugent-meets-Black Sabbath songs of TH, the Deadly Snakes were obviously out of their league. A valiant effort, but a distasteful one nonetheless.
Introduced by two goofballs with nothing better to do than annoy the crowd with meaningless swag (passes to Toy Story 2), and an all too short performance by a fire dancer, Thrush Hermit displayed a strong sense of foreboding. Standard smiles and rock gesturing were overshadowed by the rare moments of true emotion, when the boys looked as sad as their die-hard fans. The usual Thrush Hermit gimmicks were all utilized to their full advantage (neon Rock 'n' Roll sign, hand lamps, etc...), which were welcome gesture, but not as desired as the pure Thrush Hermit antics like doing backflips on stage, or getting buck naked while playing Steve Miller songs. Thankfully though, the band rifled through their impressive back catalogue to bring us some of their most endearing works and killer riffs. All in all, a musically impressive performance that was affected only by the band's own sentiment.
— Review by Keith Carman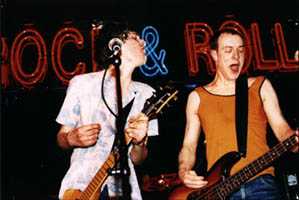 back